SPAIP Criteria
- 1006 Boulevard Saint-Jean-Baptiste
SPAIP Criteria - 1006 Boulevard Saint-Jean-Baptiste
Harmonious revitalization and contemporary touch
CUSTOMER
Gestion Martone

LOCATION
1006 boulevard Saint-Jean-Baptiste, City of Mercier, Quebec, CA

YEAR
2019 - 2021

AREA
7, 774.73 m2

DISCIPLINES
Urban Design
Urban Planning

COLLABORATIONS
J.Dagenais architecte + associés, Architect
Bérard Tremblay, Land Surveyors

MANDATE
Professional accompaniment




PROJECT SUMMARY
On a site made up of three lots on Boulevard Saint-Jean-Baptiste in Mercier, Infra - Planification urbaine was mandated by Gestion Martone to submit a request for lot subdivision, building demolition, as well as a request for analysis of the SPAIP criteria by CCU members for the requalification and densification project of the site.
The land occupied by the nursery is not exploited to its full potential, and has low architectural and urban value: the demolition of the current construction is therefore necessary to carry out the planned real estate project. A cadastral operation is proposed in order to erect the new project, as well as to standardize the areas and dimensions of the lots in accordance with current by-laws.

Improve the vitality of a sector in redevelopment


and the main artery in the heart of the City of Mercier.
Our real estate project is designed to tie into the surrounding built environment, with its sloping roofs, front yard landscaping and smaller setback from the street, allowing for better framing of the boulevard Saint-Jean-Baptiste.
The project presents three isolated buildings, integrating 67 residential units and 2 commercial units, aiming to contribute to the development of the sector, that is currently in requalification and densification.
It is part of a dynamic, unique and attractive living environment and offers quality indoor and outdoor spaces.
It will make it possible to create a branding image, to participate in a viable and lasting development and to create a family oriented place with superior quality of living, like the city of Mercier.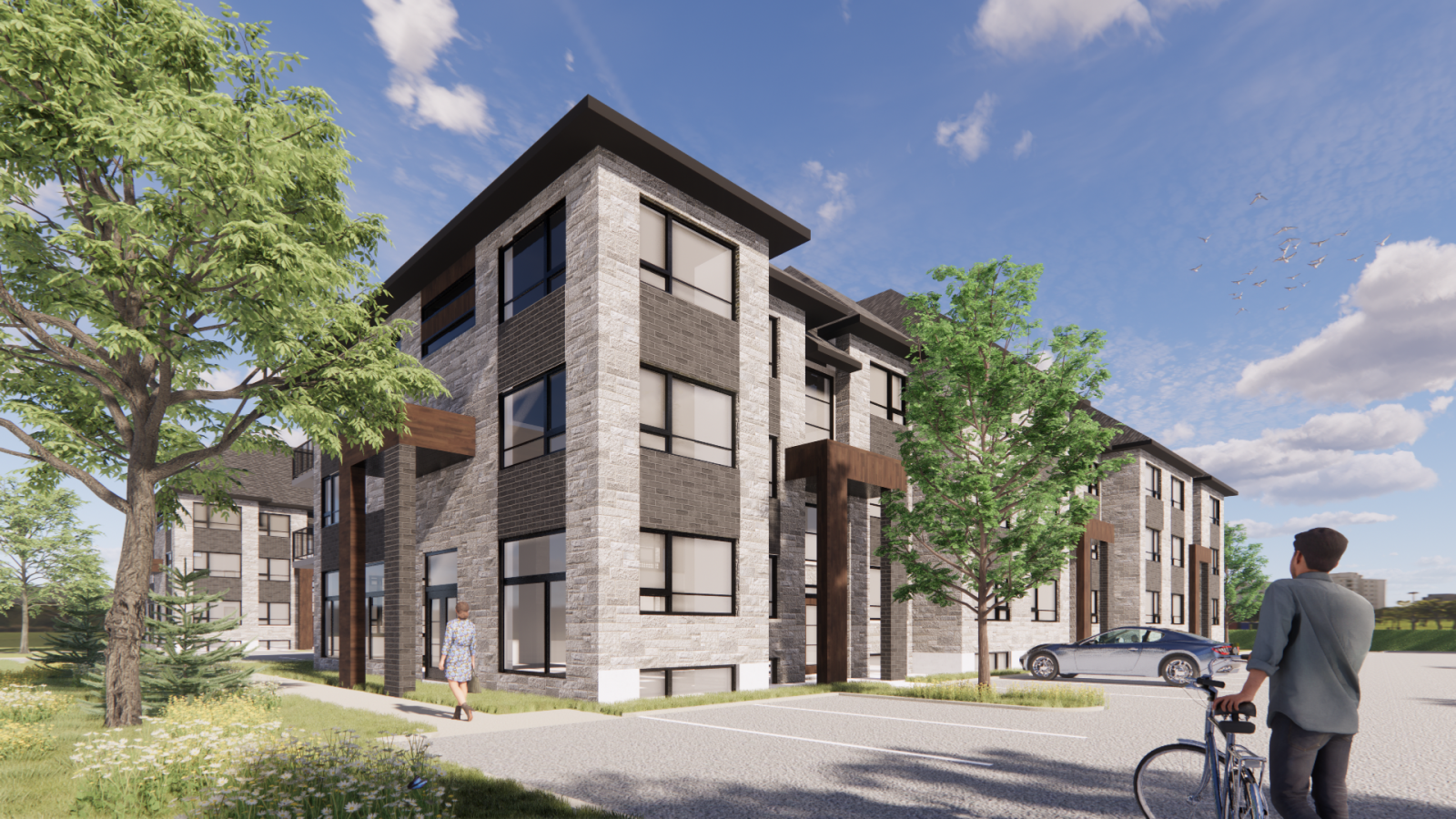 PROJECT FEATURES
1. Desirable location on the main artery of the municipality ;
2. Mixed-use contributes to the vitality of Boulevard Saint-Jean-Baptiste ;
3. A coherent and distinctive architectural ensemble ;
4. Volumetry allowing for the integration of the project into the surrounding built environment ;
5. A distinct architectural treatment of the 2 facades of the building ;
6. A street framework creating a connection between the public and private domain ;
7. Lively commercial ground floors ;
8. Large windows ;
9. A harmonious combination of several types of exterior coverings and colors ;
10. A greening of the site, allowing the planting of trees and shrubs.
OFFERED SERVICES
- By-laws and feasibility study ;
- Elaboration of the presentation document including summary of information, argumentary, planning principles, overall development plan, development
plans ;
- 3D modeling ;
- Drafting of the official approval request form required by the City;Drafting of the official approval request form required by the City ;
- Coordination with all professionals.